Young Adult Fiction (YA in short) is a genre that has teenagers for protagonists, and it's written and marketed primarily for teenagers between 13 and 18 years old.
Even if – on paper – I'm not a young adult anymore, it doesn't mean I can't enjoy YA books too! I think that if the literature is good, everyone who is interested can enjoy it.
Here's a list of the most popular YA books right now.
Let me know if you've read any of them and what your thoughts are!
1. To All The Boys I've Loved Before by Jenny Han
Written by Jenny Han, To All the Boys I've Loved Before is the story of a teenager, Lara Jean, who wrote to all her crushes letters that she never sent. One day she discovers that the letters have been sent out, and she has to confront all the boys she has loved.
During the writing of the book, the author also decided to add a second and third chapter to the story, P.S. I Still Love You and Always and Forever.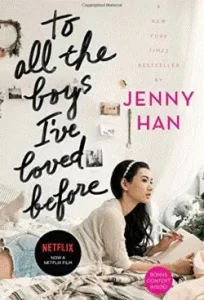 Plot:
Sixteen-year-old Lara Jean Song keeps her love letters in a hatbox her mother gave her. They don't love letters that anyone else wrote for her; these are ones she's written. One for every boy she's ever loved five in all. When she writes, she pours out her heart and soul and says all the things she would never say in real life, because her letters are for her eyes only. Until the day her secret letters are mailed, and suddenly, Lara Jean's love life goes from imaginary to out of control.
2. Fallen Academy Saga By Leia Stone
Leia Stone is the USA Today bestselling author of the Matefinder series, optioned for film, and the Hive Trilogy.
The Fallen Academy is an urban fantasy series of books set in Los Angeles, where the good and the evil, angels, and demons, will clash.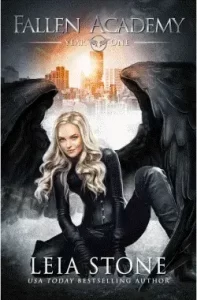 Plot:
When angels fell from the sky to war with the demons that ravaged Earth, their combined powers infected humanity. Now, the humans are assigned one of two fates, being either demon gifted or angel blessed.
After wings sprout from Brielle's back at her awakening ceremony, she's sure she's an angel blessed celestial. It's not until she sees black wings that she realizes something is terribly wrong.
Having sold her contract at a young age to save her father's life means she should be bound for Tainted Academy. That is, until a fallen angel unexpectedly fights for her to be accepted into Fallen Academy, the elite school for those that inhabit Angel City.
She's immediately matched with her impossibly handsome celestial teacher, Lincoln Grey. Laying eyes on him, her first thought is that her time at the academy might actually be fun, but this theory quickly fades when she and Lincoln clash on day one. To further prove her admission into Fallen Academy is cursed, the entire school is thrown into chaos when an Abrus demon reveals that he knows Brielle's secret. Now, above all else, Lincoln must fight to protect her.
To his surprise, the only thing more difficult than trying to save her is trying not to fall for her.
3. Red Queen Series by Victoria Aveyard
Red Queen is a series formed by four books: Red Queen, Glass Sword, King's Cage, and War Storm, to which two spin-offs are added: Queen Song and Steel Scars.
The series had a lot of success; it was a New York Times #1 bestseller and the winner of one of the Goodreads Choice Awards in 2015.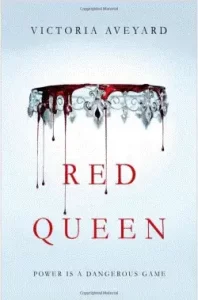 Plot:
Mare Barrow's world is divided by blood—those with common, Red blood serve the Silver-blooded elite, who are gifted with superhuman abilities. Mare is a Red, scraping by as a thief in a poor, rural village until a twist of fate throws her in front of the Silver court. Before the king, princes, and all the nobles, she discovers she has an ability of her own.
To cover up this impossibility, the king forces her to play the role of a lost Silver princess and betroths her to one of his own sons. As Mare is drawn further into the Silver world, she risks everything and uses her new position to help the Scarlet Guard—a growing Red rebellion—even as her heart tugs her in an impossible direction.
One wrong move can lead to her death, but in the dangerous game she plays, the only certainty is betrayal.
4. Throne of Glass Saga by Sarah J. Maas
The main saga of Throne of Glass consists of seven books: Throne of Glass, Crown of Midnight, Heir of Fire, Queen of Shadows, Empire of Storms, Tower of Dawn, and Kingdom of Ash, which came out at the end of 2018.
They're followed by five novellas set in the same world contained in The Assassin's Blade.
Throne of Glass is a medieval fantasy saga that mixes adventure, fantasy, romance, and strong female characters.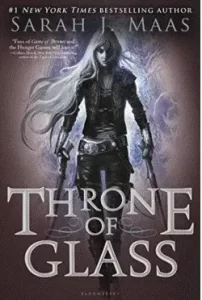 Plot:
After serving out a year of hard labor in the salt mines of Endovier for her crimes, 18-year-old assassin Celaena Sardothien is dragged before the Crown Prince. Prince Dorian offers her her freedom on one condition: she must act as his champion in a competition to find a new royal assassin.
Her opponents are men thieves and assassins and warriors from across the empire, each sponsored by a member of the king's council. If she beats her opponents in a series of eliminations, she'll serve the kingdom for three years and then be granted her freedom.
Celaena finds her training sessions with the captain of the guard, Westfall, challenging and exhilarating. But she's bored stiff by court life. Things get a little more interesting when the prince starts to show interest in her… but it's the gruff Captain Westfall who seems to understand her best.
Then one of the other contestants turns up dead quickly followed by another. Can Celaena figure out who the killer is before she becomes a victim? As the young assassin investigates, her search leads her to discover a greater destiny than she could possibly have imagined.
5. The Shadow and Bone Trilogy by Leigh Bardugo
Shadow and Bone is the first book of the Grisha Verse series written by New York Times bestselling author Leigh Bardugo.
Following Shadow and Bone, there are Siege and Storm and Ruin and Rising. The trilogy is the prequel to Six of Crows, introduction to Ravka, and how the Grishaverse works.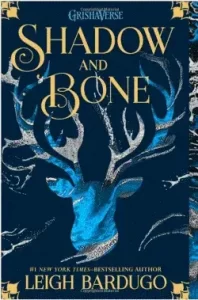 Plot:
Soldier. Summoner. Saint. Orphaned and expendable, Alina Starkov is a soldier who knows she may not survive her first trek across the Shadow Fold―a swath of unnatural darkness crawling with monsters. But when her regiment is attacked, Alina unleashes dormant magic, not even she knew she possessed.
Now Alina will enter a lavish world of royalty and intrigue as she trains with the Grisha, her country's magical military elite―and falls under the spell of their notorious leader, the Darkling. He believes Alina can summon a force capable of destroying the Shadow Fold and reuniting their war-ravaged country, but only if she can master her untamed gift.
As the threat to the kingdom mounts and Alina unlocks the secrets of her past, she will make a dangerous discovery that could threaten all she loves and the very future of a nation.
Welcome to Ravka . . . A world of science and superstition where nothing is what it seems.
6. An Ember in The Ashes by Sabaa Tahir
An Ember in the Ashes is the first book of a series of (for now) three, together with A Torch Against the Night and A Reaper at The Gates.
The New York Times bestselling author Sabaa Tahir, in An Ember in the Ashes, describes a dystopian world, the Martial Empire, where defiance is met with death, a world of oppressors and oppressed, rebels and spies.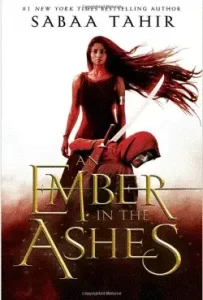 Plot:
Under the Martial Empire, defiance is met with death. Those who do not vow their blood and bodies to the Emperor risk the execution of their loved ones and the destruction of all they hold dear.
It is in this brutal world, inspired by ancient Rome, that Laia lives with her grandparents and older brother. The family ekes out an existence in the Empire's impoverished backstreets. They do not challenge the Empire. They've seen what happens to those who do.
But when Laia's brother is arrested for treason, Laia is forced to make a decision. In exchange for help from rebels who promise to rescue her brother, she will risk her life to spy for them from within the Empire's greatest military academy.
There, Laia meets Elias, the school's finest soldier—and secretly, it's most unwilling. Elias wants only to be free of the tyranny he's being trained to enforce. He and Laia will soon realize that their destinies are intertwined—and that their choices will change the fate of the Empire itself.