When I booked my holidays for the end of August my first thought was: "and now how do I choose which books to bring with me?"
Summer is the perfect time of the year to enjoy some free time, relax from the stress of working or studying and finally get to read some books.
For this reason, I've chosen a few titles from the best-sellers of this year that will sparkle your summer 2022 reading list.
I've divided the books in five genres: Mystery & Thriller, Romance, Historical Fiction, Fantasy & Science Fiction and Contemporary.
These are all books that came out some times in the first half of 2022. Some of them, like Daisy Jones & The Six, Normal People or The Priory of the Orange Tree, have already been acclaimed as best books of the year or are longlisted for some Prestigious Literary Award. This makes them perfect to be packed in your suitcase and added to your summer reading list.
The beach is my absolute favorite place to read a good book, as I already said in one of my previous posts but I think it wouldn't be really summer, or a holiday, if I didn't take a book with me.
This summer 2022 will be super exciting knowing that you have a great reading list. I hope you'll enjoy my selection.
Let me know in the comments what you think. Have you read any of those? Which one is your favorite or the one you can't wait to put your hands on? Which one is your favorite place to read a book?
Comment in the section below!
Have fun,
Maggie
Mystery & Thriller
1. Two Can Keep a Secret by Karen M. McManus
For the fans of Pretty Little Liars here is a best-selling YA novels that will make you hold your breath until the end.
Echo Ridge is small-town America. Ellery's never been there, but she's heard all about it. Her aunt went missing there at age seventeen. And only five years ago, a homecoming queen put the town on the map when she was killed. Now Ellery has to move there to live with a grandmother she barely knows.
The town is picture-perfect, but it's hiding secrets. And before school even begins for Ellery, someone has declared open season on homecoming, promising to make it as dangerous as it was five years ago. Then, almost as if to prove it, another girl goes missing.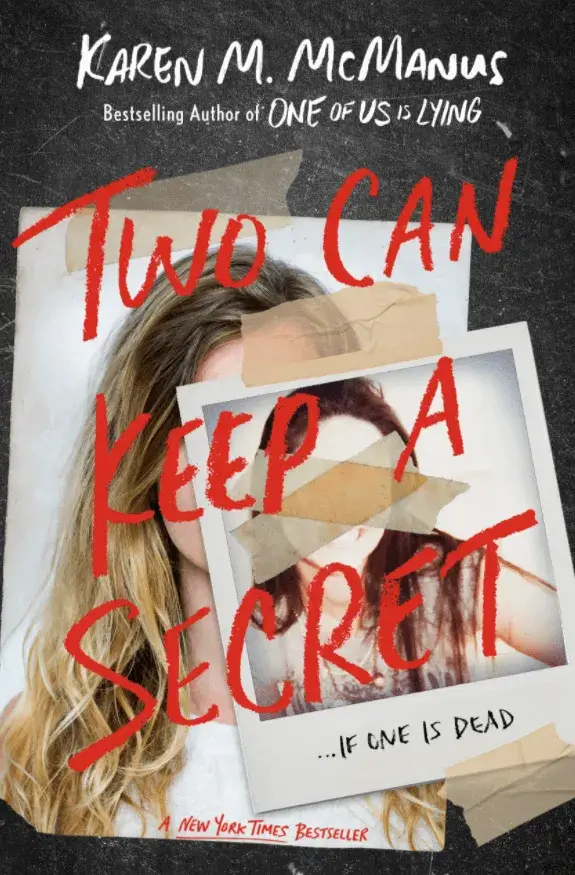 Ellery knows all about secrets. Her mother has them; her grandmother does too. And the longer she's in Echo Ridge, the clearer it becomes that everyone there is hiding something. The thing is, secrets are dangerous–and most people aren't good at keeping them. This is why in Echo Ridge, it's safest to keep your secrets to yourself.
2. Run Away by Harlan Coben
Get ready for some great domestic suspense, in a brilliant thriller from an international best-selling author.
You've lost your daughter.
She's addicted to drugs and to an abusive boyfriend. And she's made it clear that she doesn't want to be found.
Then, by chance, you see her playing guitar in Central Park. But she's not the girl you remember. This woman is living on the edge, frightened, and clearly in trouble.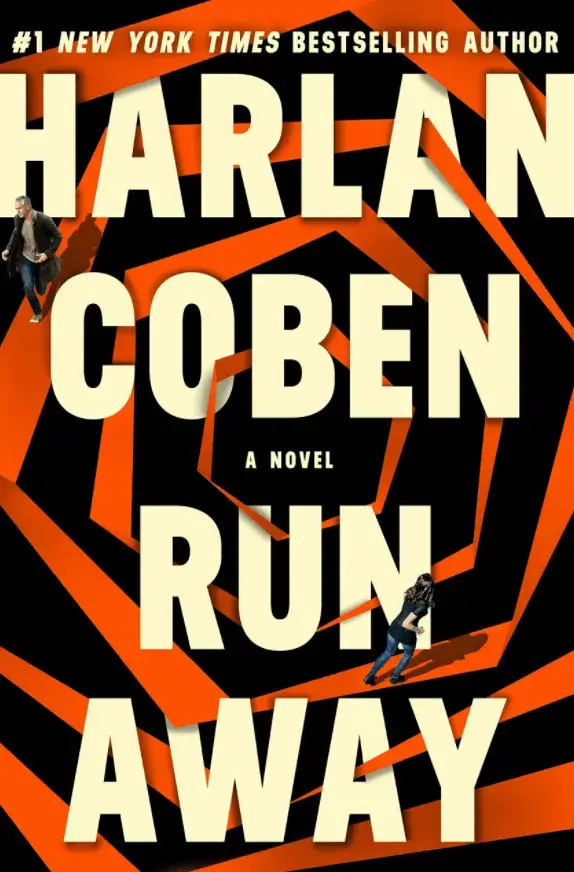 You don't stop to think. You approach her, beg her to come home.
She runs.
And you do the only thing a parent can do: you follow her into a dark and dangerous world you never knew existed. Before you know it, both your family and your life are on the line. And in order to protect your daughter from the evils of that world, you must face them head on.
3. Miracle Creek by Angie Kim
A thrilling courtroom drama debut for fans of Liane Moriarty and Celeste Ng that digs deep into family drama and the secrets we keep to protect our loved ones.
My husband asked me to lie. Not a big lie. He probably didn't even consider it a lie, and neither did I, at first…
In rural Virginia, Young and Pak Yoo run an experimental medical treatment device known as the Miracle Submarine―a pressurized oxygen chamber that patients enter for therapeutic "dives" with the hopes of curing issues like autism or infertility. But when the Miracle Submarine mysteriously explodes, killing two people, a dramatic murder trial upends the Yoos' small community.
Who or what caused the explosion? Was it the mother of one of the patients, who claimed to be sick that day but was smoking down by the creek? Or was it Young and Pak themselves, hoping to cash in on a big insurance payment and send their daughter to college? The ensuing trial uncovers unimaginable secrets from that night―trysts in the woods, mysterious notes, child-abuse charges―as well as tense rivalries and alliances among a group of people driven to extraordinary degrees of desperation and sacrifice.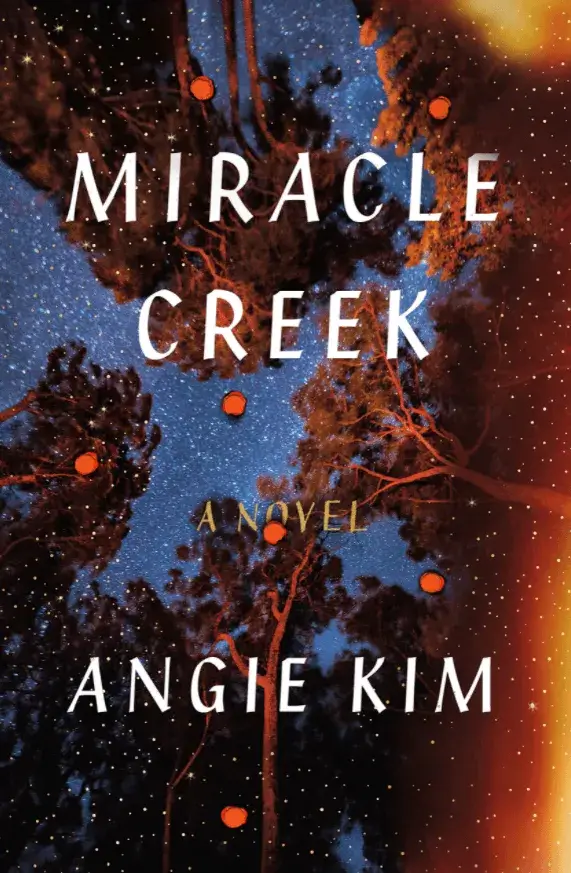 Angie Kim's Miracle Creek is a thoroughly contemporary take on the courtroom drama, drawing on the author's own life as a Korean immigrant, former trial lawyer, and mother of a real-life "submarine" patient. Both a compelling page-turner and an excavation of identity and the desire for connection, Miracle Creek is a brilliant, empathetic debut from an exciting new voice.
4. The Lost Man by Jane Harper
From the international bestselling author Jane Harper, here is a mystery standalone novel about two brothers and the death of their third siblings, set in Queensland, Australia.
Brothers Nathan and Bub Bright meet for the first time in months at the remote fence line separating their cattle ranches in the lonely outback.
Their third brother, Cameron, lies dead at their feet.
In an isolated belt of Australia, their homes a three-hour drive apart, the brothers were one another's nearest neighbors. Cameron was the middle child, the one who ran the family homestead. But something made him head out alone under the unrelenting sun.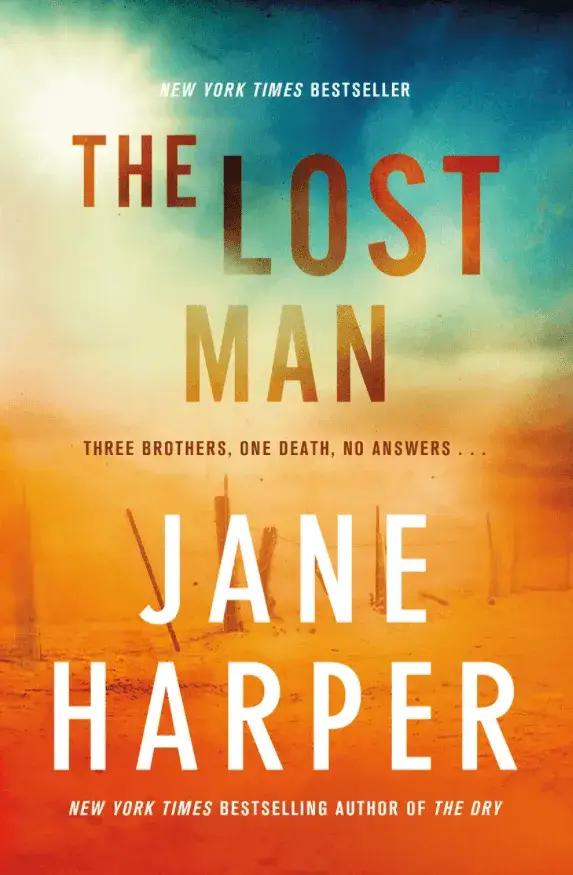 Nathan, Bub and Nathan's son return to Cameron's ranch and to those left behind by his passing: his wife, his daughters, and his mother, as well as their long-time employee and two recently hired seasonal workers.
While they grieve Cameron's loss, suspicion starts to take hold, and Nathan is forced to examine secrets the family would rather leave in the past. Because if someone forced Cameron to his death, the isolation of the outback leaves few suspects.
A powerful and brutal story of suspense set against a formidable landscape, The Lost Man confirms Jane Harper, author of The Dry and Force of Nature, is one of the best new voices in writing today.
5. An Anonymous Girl by Greer Hendricks & Sarah Pekkanen
Instant #1 New York Times bestseller in January 2019, this is a psychological suspense and obsession from the authors of The Wife Between Us.
Looking to earn some easy cash, Jessica Farris agrees to be a test subject in a psychological study about ethics and morality. But as the study moves from the exam room to the real world, the line between what is real and what is one of Dr. Shields's experiments blurs.
Dr. Shields seems to know what Jess is thinking… and what she's hiding.
Jessica's behavior will not only be monitored, but manipulated.
Caught in a web of attraction, deceit and jealousy, Jess quickly learns that some obsessions can be deadly.
From the authors of the blockbuster bestseller The Wife Between Us, Greer Hendricks and Sarah Pekkanen, An Anonymous Girl will keep you riveted through the last shocking twist.
Romance
1. The Bride Test by Helen Hoang
From the USA Today bestselling author of The Kiss Quotient comes a romance about love that crosses any boundaries and borders of the heart.
Khai Diep has no feelings. Well, he feels irritation when people move his things or contentment when ledgers balance down to the penny, but not big, important emotions—like grief. And love. He thinks he's defective. His family knows better—that his autism means he just processes emotions differently. When he steadfastly avoids relationships, his mother takes matters into her own hands and returns to Vietnam to find him the perfect bride.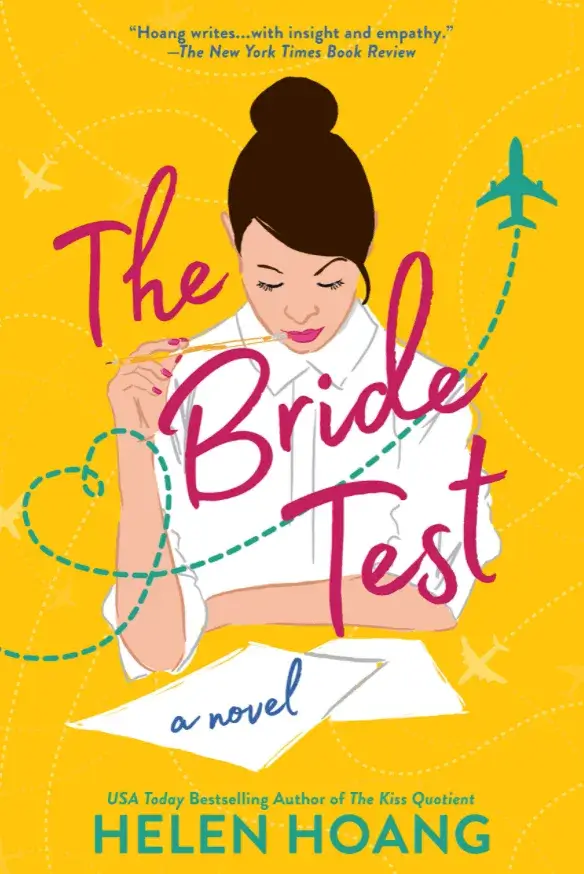 As a mixed-race girl living in the slums of Ho Chi Minh City, Esme Tran has always felt out of place. When the opportunity arises to come to America and meet a potential husband, she can't turn it down, thinking this could be the break her family needs. Seducing Khai, however, doesn't go as planned. Esme's lessons in love seem to be working…but only on herself. She's hopelessly smitten with a man who's convinced he can never return her affection.
With Esme's time in the United States dwindling, Khai is forced to understand he's been wrong all along. And there's more than one way to love.
2. Red, White & Royal Blue by Casey McQuiston
A must-read romantic novel where America's First Son falls in love with Prince Henry of Wales after an incident of international proportions forces them to pretend to be best friends.
When his mother became President, Alex Claremont-Diaz was promptly cast as the American equivalent of a young royal. Handsome, charismatic, genius―his image is pure millennial-marketing gold for the White House. There's only one problem: Alex has a beef with the actual prince, Henry, across the pond. And when the tabloids get hold of a photo involving an Alex-Henry altercation, U.S./British relations take a turn for the worse.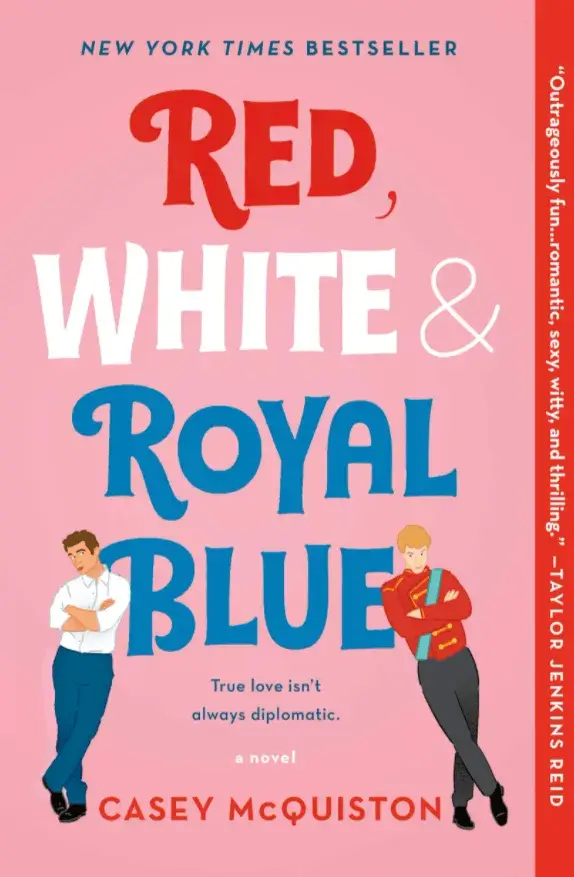 Heads of family, state, and other handlers devise a plan for damage control: staging a truce between the two rivals. What at first begins as a fake, Instragramable friendship grows deeper, and more dangerous, than either Alex or Henry could have imagined. Soon Alex finds himself hurtling into a secret romance with a surprisingly unstuffy Henry that could derail the campaign and upend two nations and begs the question: Can love save the world after all? Where do we find the courage, and the power, to be the people we are meant to be? And how can we learn to let our true colors shine through? Casey McQuiston's Red, White & Royal Blue proves: true love isn't always diplomatic.
3. 99 Percent Mine by Sally Thorne
The author of The Hating Game, translated in 20 languages, is back with an unforgettable romantic comedy about a woman who finally has a shot on her long-time crush, if she dares…
Crush (n.): a strong and often short-lived infatuation, particularly for someone beyond your reach…Darcy Barrett has undertaken a global survey of men. She's travelled the world, and can categorically say that no one measures up to Tom Valeska, whose only flaw is that Darcy's twin brother Jamie saw him first and claimed him forever as his best friend. Despite Darcy's best efforts, Tom's off limits and loyal to her brother, 99%. That's the problem with finding her dream man at age eight and peaking in her photography career at age twenty—ever since, she's had to learn to settle for good enough.
When Darcy and Jamie inherit a tumble-down cottage from their grandmother, they're left with strict instructions to bring it back to its former glory and sell the property. Darcy plans to be in an aisle seat halfway across the ocean as soon as the renovations start, but before she can cut and run, she finds a familiar face on her porch: house-flipper extraordinaire Tom's arrived, he's bearing power tools, and he's single for the first time in almost a decade.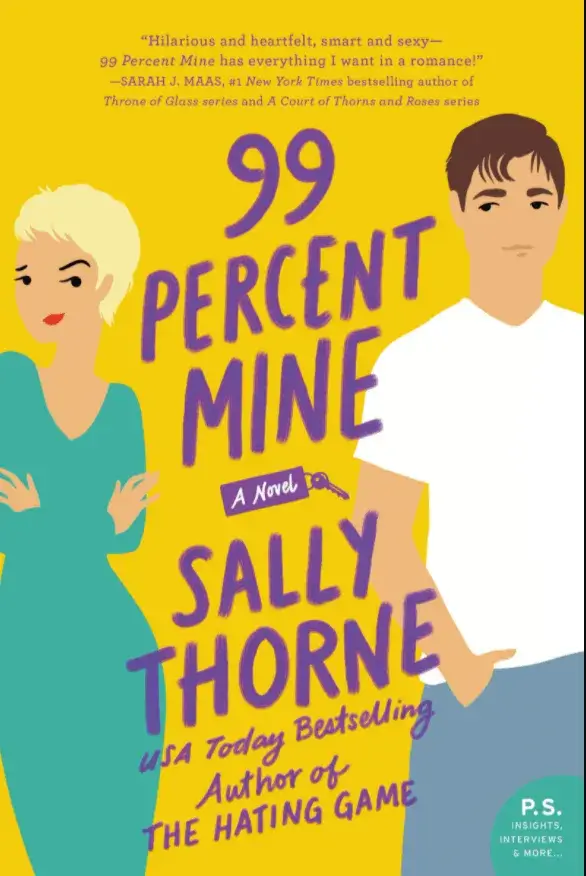 Suddenly Darcy's considering sticking around to make sure her twin doesn't ruin the cottage's inherent magic with his penchant for grey and chrome. She's definitely not staying because of her new business partner's tight t-shirts, or that perfect face that's inspiring her to pick up her camera again. Soon sparks are flying—and it's not the faulty wiring. It turns out one percent of Tom's heart might not be enough for Darcy anymore. This time around, she's switching things up. She's going to make Tom Valeska 99 percent hers.
4. I Owe You One by Sophie Kinsella
From #1 New York Times bestselling author Sophie Kinsella, an irresistible story of love and empowerment about a young woman with a complicated family, a handsome man who might be "the one," and an IOU that changes everything.
Fixie Farr has always lived by her father's motto: "Family first." And since her dad passed away, leaving his charming housewares store in the hands of his wife and children, Fixie spends all her time picking up the slack from her siblings instead of striking out on her own. The way Fixie sees it, if she doesn't take care of her father's legacy, who will?
It's simply not in Fixie's nature to say no to people. So when a handsome stranger in a coffee shop asks her to watch his laptop for a moment, she not only agrees—she ends up saving it from certain disaster. To thank Fixie for her quick thinking, the computer's owner, Sebastian, an investment manager, scribbles an IOU on a coffee sleeve and attaches his business card. Fixie laughs it off—she'd never actually claim an IOU from a stranger. Would she?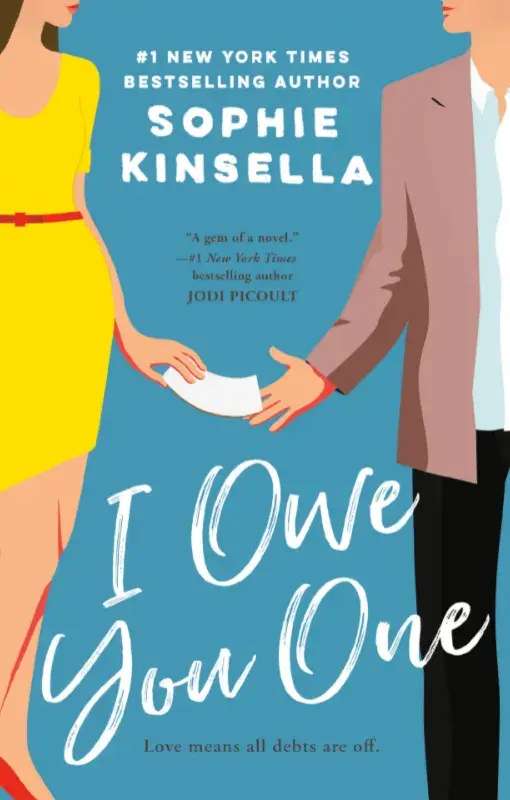 But then Fixie's childhood crush, Ryan, comes back into her life, and his lack of a profession pushes all of Fixie's buttons. As always, she wants nothing for herself—but she'd love Seb to give Ryan a job. No sooner has Seb agreed than the tables are turned once more and a new series of IOUs between Seb and Fixie—from small favors to life-changing moments—ensues. Soon Fixie, Ms. Fixit for everyone else, is torn between her family and the life she really wants. Does she have the courage to take a stand? Will she finally grab the life, and love, she really wants?
5. The Unhoneymooners by Christina Lauren
For two sworn enemies, anything can happen during the Hawaiian trip of a lifetime—maybe even love—in this romantic comedy from the New York Times bestselling authors of Roomies.
Olive Torres is used to being the unlucky twin: from inexplicable mishaps to a recent layoff, her life seems to be almost comically jinxed. By contrast, her sister Ami is an eternal champion . . . she even managed to finance her entire wedding by winning a slew of contests. Unfortunately for Olive, the only thing worse than constant bad luck is having to spend the wedding day with the best man (and her nemesis), Ethan Thomas.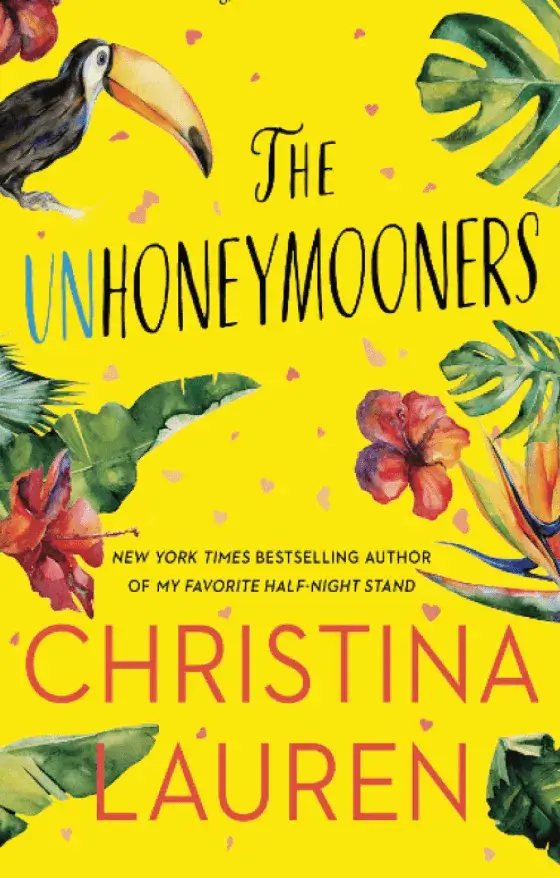 Olive braces herself for wedding hell, determined to put on a brave face, but when the entire wedding party gets food poisoning, the only people who aren't affected are Olive and Ethan. Suddenly there's a free honeymoon up for grabs, and Olive will be damned if Ethan gets to enjoy paradise solo.
Agreeing to a temporary truce, the pair head for Maui. After all, ten days of bliss is worth having to assume the role of loving newlyweds, right? But the weird thing is . . . Olive doesn't mind playing pretend. In fact, the more she pretends to be the luckiest woman alive, the more it feels like she might be.
With Christina Lauren's "uniquely hilarious and touching voice" (Entertainment Weekly), The Unhoneymooners is a romance for anyone who has ever felt unlucky in love.
Historical Fiction
1. City of Girls by Elizabeth Gilbert
From the # 1 New York Times bestselling author of Eat, Pray, Love and The Signature of All Things, a delicious novel of glamour, sex, and adventure, about a young woman discovering that you don't have to be a good girl to be a good person.
Beloved author Elizabeth Gilbert returns to fiction with a unique love story set in the New York City theater world during the 1940s. Told from the perspective of an older woman as she looks back on her youth with both pleasure and regret (but mostly pleasure), City of Girls explores themes of female sexuality and promiscuity, as well as the idiosyncrasies of true love.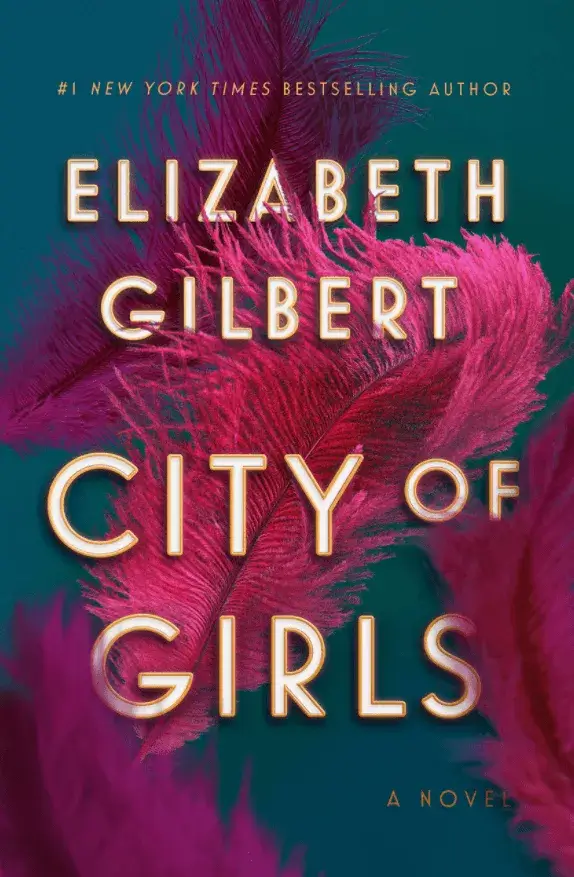 In 1940, nineteen-year-old Vivian Morris has just been kicked out of Vassar College, owing to her lackluster freshman-year performance. Her affluent parents send her to Manhattan to live with her Aunt Peg, who owns a flamboyant, crumbling midtown theater called the Lily Playhouse. There Vivian is introduced to an entire cosmos of unconventional and charismatic characters, from the fun-chasing showgirls to a sexy male actor, a grand-dame actress, a lady-killer writer, and no-nonsense stage manager. But when Vivian makes a personal mistake that results in professional scandal, it turns her new world upside down in ways that it will take her years to fully understand. Ultimately, though, it leads her to a new understanding of the kind of life she craves – and the kind of freedom it takes to pursue it. It will also lead to the love of her life, a love that stands out from all the rest.
Now eighty-nine years old and telling her story at last, Vivian recalls how the events of those years altered the course of her life – and the gusto and autonomy with which she approached it. "At some point in a woman's life, she just gets tired of being ashamed all the time," she muses. "After that, she is free to become whoever she truly is." Written with a powerful wisdom about human desire and connection, City of Girls is a love story like no other.
2. Mrs. Everything by Jennifer Weiner
From Jennifer Weiner, the #1 New York Times bestselling author of Who Do You Love and In Her Shoes comes a smart, thoughtful, and timely exploration of two sisters' lives from the 1950s to the present as they struggle to find their places—and be true to themselves—in a rapidly evolving world.
Growing up in 1950s Detroit, Jo and Bethie Kaufman live in a perfect "Dick and Jane" house, where their roles in the family are clearly defined. Jo is the tomboy, the bookish rebel with a passion to make the world more fair; Bethie is the pretty, feminine good girl, a would-be star who enjoys the power her beauty confers and dreams of a traditional life.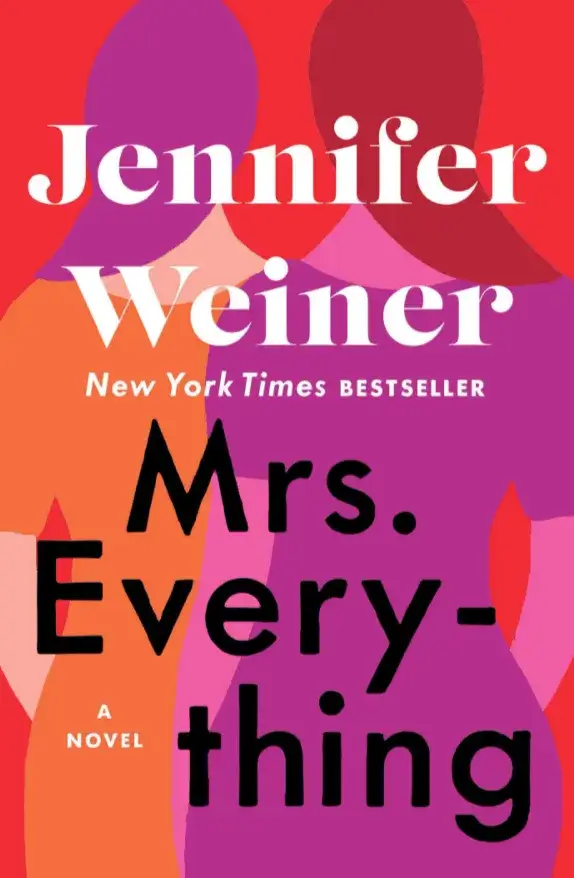 But the truth ends up looking different from what the girls imagined. Jo and Bethie survive traumas and tragedies. As their lives unfold against the background of free love and Vietnam, Woodstock and women's lib, Bethie becomes an adventure-loving wild child who dives headlong into the counterculture and is up for anything (except settling down). Meanwhile, Jo becomes a proper young mother in Connecticut, a witness to the changing world instead of a participant. Neither woman inhabits the world she dreams of, nor has a life that feels authentic or brings her joy. Is it too late for the women to finally stake a claim on happily ever after?
In her most ambitious novel yet, Jennifer Weiner tells a story of two sisters who, with their different dreams and different paths, offer answers to the question: How should a woman be in the world?
3. Daisy Jones & The Six by Taylor Jenkins Reid
One of the most acclaimed books of the year so far, here is a gripping novel about the whirlwind rise of an iconic 1970s rock group and their beautiful lead singer, revealing the mystery behind their infamous breakup.
Daisy is a girl coming of age in L.A. in the late sixties, sneaking into clubs on the Sunset Strip, sleeping with rock stars, and dreaming of singing at the Whisky a Go Go. The sex and drugs are thrilling, but it's the rock 'n' roll she loves most. By the time she's twenty, her voice is getting noticed, and she has the kind of heedless beauty that makes people do crazy things.
Also getting noticed is The Six, a band led by the brooding Billy Dunne. On the eve of their first tour, his girlfriend Camila finds out she's pregnant, and with the pressure of impending fatherhood and fame, Billy goes a little wild on the road.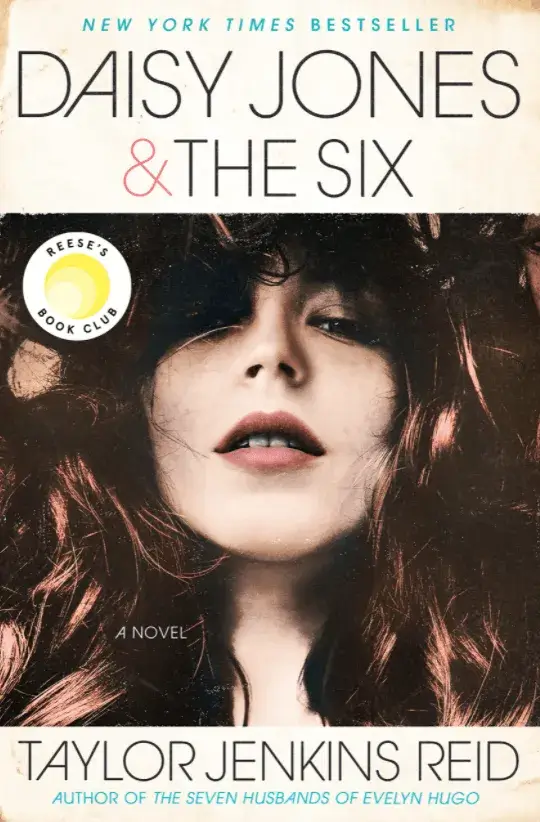 Daisy and Billy cross paths when a producer realizes that the key to supercharged success is to put the two together. What happens next will become the stuff of legend.
The making of that legend is chronicled in this riveting and unforgettable novel, written as an oral history of one of the biggest bands of the seventies. Taylor Jenkins Reid is a talented writer who takes her work to a new level with Daisy Jones & The Six, brilliantly capturing a place and time in an utterly distinctive voice.
4. The Island of Sea Women by Lisa See
A new novel from Lisa See, the New York Times bestselling author of The Tea Girl of Hummingbird Lane, about female friendship and family secrets on a small Korean island.
Mi-ja and Young-sook, two girls living on the Korean island of Jeju, are best friends that come from very different backgrounds. When they are old enough, they begin working in the sea with their village's all-female diving collective, led by Young-sook's mother. As the girls take up their positions as baby divers, they know they are beginning a life of excitement and responsibility but also danger.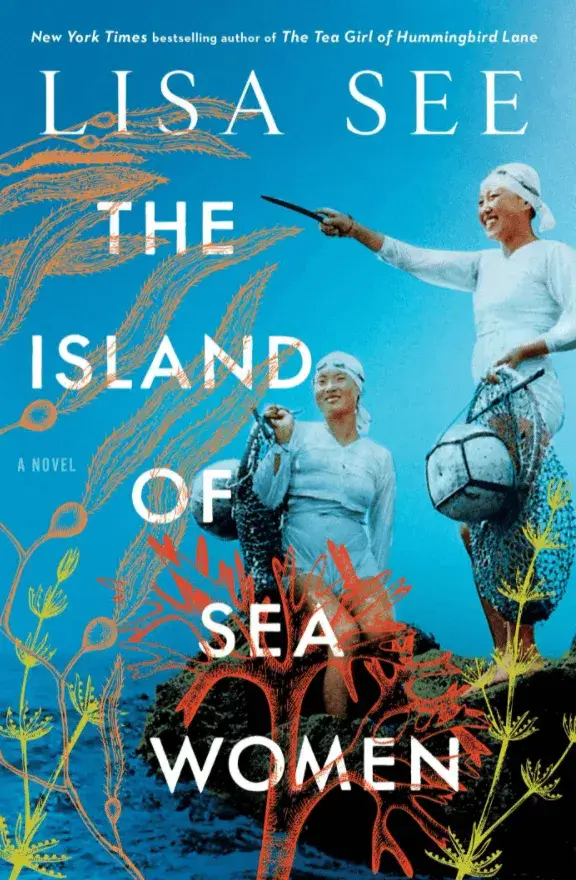 Despite their love for each other, Mi-ja and Young-sook's differences are impossible to ignore. The Island of Sea Women is an epoch set over many decades, beginning during a period of Japanese colonialism in the 1930s and 1940s, followed by World War II, the Korean War and its aftermath, through the era of cell phones and wet suits for the women divers. Throughout this time, the residents of Jeju find themselves caught between warring empires. Mi-ja is the daughter of a Japanese collaborator, and she will forever be marked by this association. Young-sook was born into a long line of haenyeo and will inherit her mother's position leading the divers in their village. Little do the two friends know that after surviving hundreds of dives and developing the closest of bonds, forces outside their control will push their friendship to the breaking point.
This beautiful, thoughtful novel illuminates a world turned upside down, one where the women are in charge, engaging in dangerous physical work, and the men take care of the children. A classic Lisa See story—one of women's friendships and the larger forces that shape them—The Island of Sea Women introduces readers to the fierce and unforgettable female divers of Jeju Island and the dramatic history that shaped their lives.
Fantasy/Science Fiction
1. Black Leopard, Red Wolf by Marlon James
The epic novel, an African Game of Thrones, from the Man Booker Prize-winning author of A Brief History of Seven Killings
In the stunning first novel in Marlon James's Dark Star trilogy, myth, fantasy, and history come together to explore what happens when a mercenary is hired to find a missing child.
Tracker is known far and wide for his skills as a hunter: "He has a nose," people say. Engaged to track down a mysterious boy who disappeared three years earlier, Tracker breaks his own rule of always working alone when he finds himself part of a group that comes together to search for the boy. The band is a hodgepodge, full of unusual characters with secrets of their own, including a shape-shifting man-animal known as Leopard.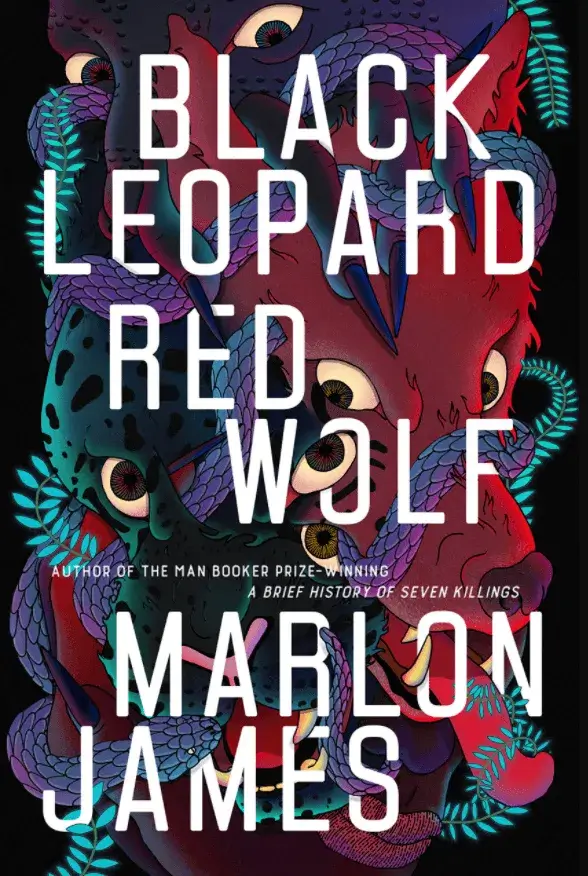 As Tracker follows the boy's scent–from one ancient city to another; into dense forests and across deep rivers–he and the band are set upon by creatures intent on destroying them. As he struggles to survive, Tracker starts to wonder: Who, really, is this boy? Why has he been missing for so long? Why do so many people want to keep Tracker from finding him? And perhaps the most important questions of all: Who is telling the truth, and who is lying?
Drawing from African history and mythology and his own rich imagination, Marlon James has written a novel unlike anything that's come before it: a saga of breathtaking adventure that's also an ambitious, involving read. Defying categorization and full of unforgettable characters, Black Leopard, Red Wolf is both surprising and profound as it explores the fundamentals of truth, the limits of power, and our need to understand them both.
2. The Priory of the Orange Tree by Samantha Shannon
One of the most acclaimed fantasy novels of 2019. Here is a story for fans of Game of Thrones, where you will find dragons, realms and assassins.
The House of Berethnet has ruled Inys for a thousand years. Still unwed, Queen Sabran the Ninth must conceive a daughter to protect her realm from destruction–but assassins are getting closer to her door.
Ead Duryan is an outsider at court. Though she has risen to the position of lady-in-waiting, she is loyal to a hidden society of mages. Ead keeps a watchful eye on Sabran, secretly protecting her with forbidden magic.
Across the dark sea, Tané has trained all her life to be a dragonrider, but is forced to make a choice that could see her life unravel.
Meanwhile, the divided East and West refuse to parley, and forces of chaos are rising from their sleep.
3. King of Scars by Leigh Bardugo
From the international bestseller author of the Grishaverse with over three millions copies sold, here is a the first chapter of a new duology.
Face your demons…or feed them. The dashing young king, Nikolai Lantsov, has always had a gift for the impossible. No one knows what he endured in his country's bloody civil war―and he intends to keep it that way. Now, as enemies gather at his weakened borders, Nikolai must find a way to refill Ravka's coffers, forge new alliances, and stop a rising threat to the once-great Grisha Army.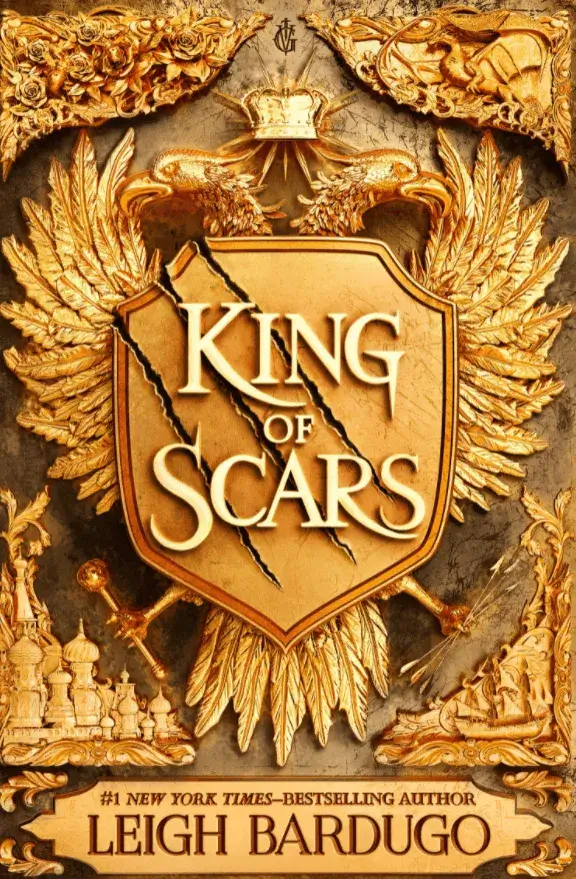 Yet with every day a dark magic within him grows stronger, threatening to destroy all he has built. With the help of a young monk and a legendary Grisha general, Nikolai will journey to the places in Ravka where the deepest magic survives to vanquish the terrible legacy inside him. He will risk everything to save his country and himself. But some secrets aren't meant to stay buried―and some wounds aren't meant to heal.
4. Aurora Rising by Jay Kristoff & Amie Kaufman
From the internationally bestselling authors of THE ILLUMINAE FILES comes an epic new science fiction adventure.
The year is 2380, and the graduating cadets of Aurora Academy are being assigned their first missions. Star pupil Tyler Jones is ready to recruit the squad of his dreams, but his own boneheaded heroism sees him stuck with the dregs nobody else in the academy would touch.
A cocky diplomat with a black belt in sarcasm
A sociopath scientist with a fondness for shooting her bunkmates
A smart-ass tech whiz with the galaxy's biggest chip on his shoulder
An alien warrior with anger-management issues
A tomboy pilot who's totally not into him, in case you were wondering
And Ty's squad isn't even his biggest problem–that'd be Aurora Jie-Lin O'Malley, the girl he's just rescued from interdimensional space. Trapped in cryo-sleep for two centuries, Auri is a girl out of time and out of her depth. But she could be the catalyst that starts a war millions of years in the making, and Tyler's squad of losers, discipline cases, and misfits might just be the last hope for the entire galaxy.
NOBODY PANIC.
The Gilded Wolf by Roshani Chokshi
From New York Times bestselling author Roshani Chokshi comes The Gilded Wolves, a novel set in Paris during a time of extraordinary change–one that is full of mystery, decadence, and dangerous desires.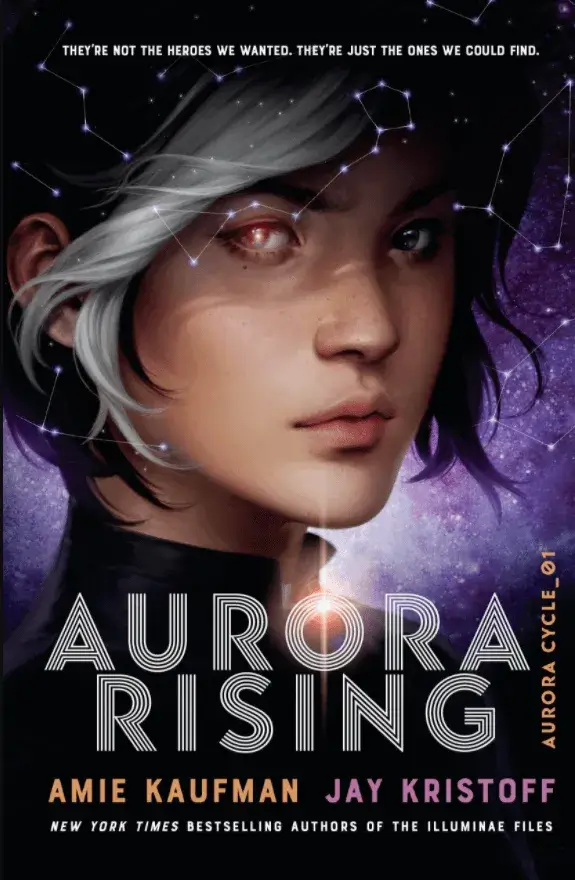 It's 1889. The city is on the cusp of industry and power, and the Exposition Universelle has breathed new life into the streets and dredged up ancient secrets. Here, no one keeps tabs on dark truths better than treasure-hunter and wealthy hotelier Séverin Montagnet-Alarie. When the elite, ever-powerful Order of Babel coerces him to help them on a mission, Séverin is offered a treasure that he never imagined: his true inheritance.
To hunt down the ancient artifact the Order seeks, Séverin calls upon a band of unlikely experts: An engineer with a debt to pay. A historian banished from his home. A dancer with a sinister past. And a brother in arms if not blood.
Together, they will join Séverin as he explores the dark, glittering heart of Paris. What they find might change the course of history–but only if they can stay alive.
Contemporary
1. On The Come Up by Angie Thomas
This is the highly anticipated second novel by Angie Thomas, the author of the #1 New York Times bestselling, award-winning The Hate U Give.
Sixteen-year-old Bri wants to be one of the greatest rappers of all time. Or at least win her first battle. As the daughter of an underground hip hop legend who died right before he hit big, Bri's got massive shoes to fill.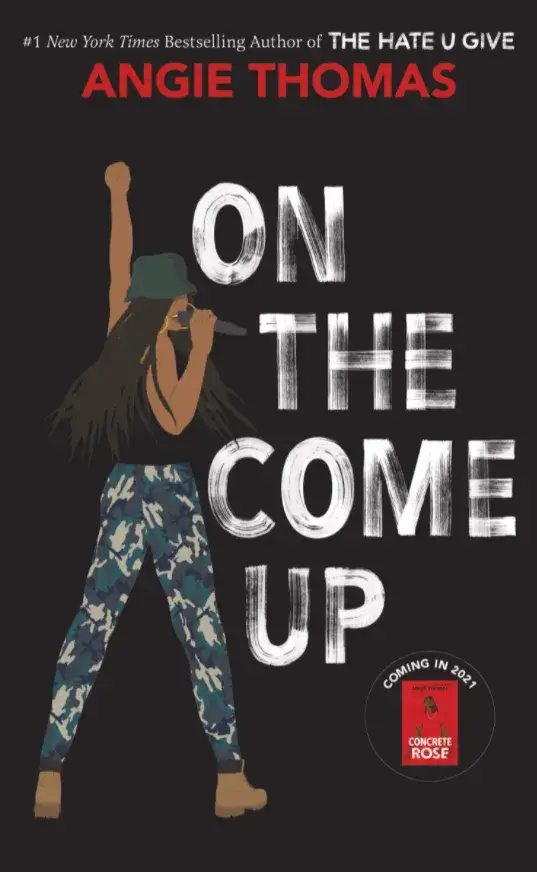 But it's hard to get your come up when you're labeled a hoodlum at school, and your fridge at home is empty after your mom loses her job. So Bri pours her anger and frustration into her first song, which goes viral…for all the wrong reasons.
Bri soon finds herself at the center of a controversy, portrayed by the media as more menace than MC. But with an eviction notice staring her family down, Bri doesn't just want to make it—she has to. Even if it means becoming the very thing the public has made her out to be.
Insightful, unflinching, and full of heart, On the Come Up is an ode to hip hop from one of the most influential literary voices of a generation. It is the story of fighting for your dreams, even as the odds are stacked against you; and about how, especially for young black people, freedom of speech isn't always free.
2. Normal People by Sally Rooney
New York Times Bestseller and longlisted for the Man Booker Prize, Normal People is a stunning novel about the transformative power of relationship. From the author of Conversation with Friends, a master of the literary page-turner.
At school Connell and Marianne pretend not to know each other. He's popular and well-adjusted, star of the school football team, while she is lonely, proud, and intensely private. But when Connell comes to pick his mother up from her job at Marianne's house, a strange and indelible connection grows between the two teenagers—one they are determined to conceal.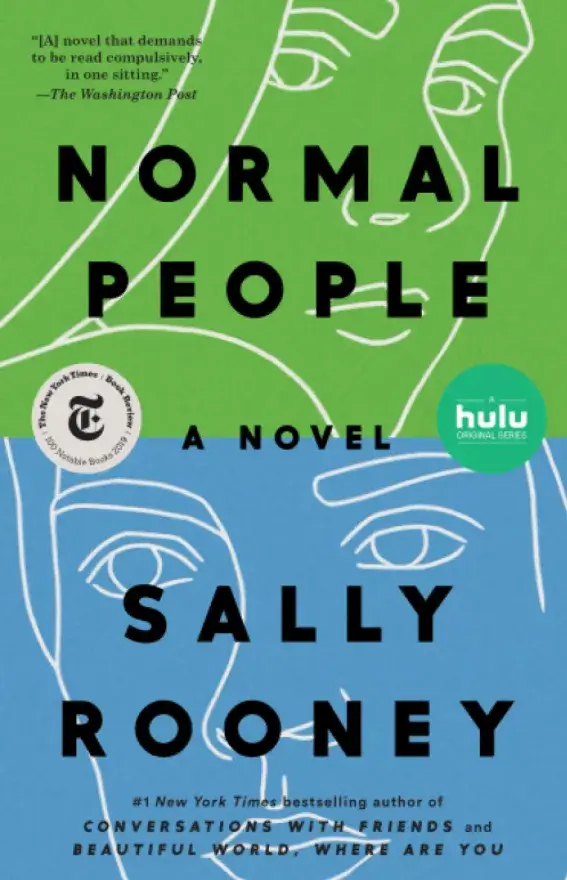 A year later, they're both studying at Trinity College in Dublin. Marianne has found her feet in a new social world while Connell hangs at the sidelines, shy and uncertain. Throughout their years at university, Marianne and Connell circle one another, straying toward other people and possibilities but always magnetically, irresistibly drawn back together. And as she veers into self-destruction and he begins to search for meaning elsewhere, each must confront how far they are willing to go to save the other.
Sally Rooney brings her brilliant psychological acuity and perfectly spare prose to a story that explores the subtleties of class, the electricity of first love, and the complex entanglements of family and friendship
3. Again But Better by Christine Riccio
From one of the most followed booktubers today, comes Again, but Better, a story about second chances, discovering yourself, and being brave enough to try again.
Shane has been doing college all wrong. Pre-med, stellar grades, and happy parents…sounds ideal — but Shane's made zero friends, goes home every weekend, and romance…what's that?
Her life has been dorm, dining hall, class, repeat. Time's a ticking, and she needs a change — there's nothing like moving to a new country to really mix things up. Shane signs up for a semester abroad in London. She's going to right all her college mistakes: make friends, pursue boys, and find adventure!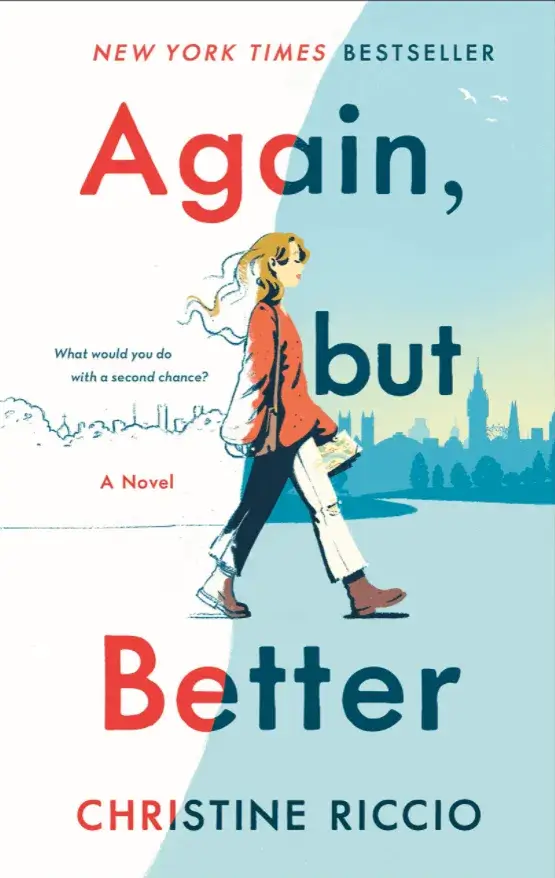 Easier said than done. She is soon faced with the complicated realities of living outside her bubble, and when self-doubt sneaks in, her new life starts to fall apart.
Shane comes to find that, with the right amount of courage and determination one can conquer anything. Throw in some fate and a touch of magic – the possibilities are endless.
4. With The Fire on High by Elizabeth Acevedo
From the New York Times bestselling author of the National Book Award longlist title The Poet X comes a dazzling novel in prose about a girl with talent, pride, and a drive to feed the soul that keeps her fire burning bright.
Ever since she got pregnant freshman year, Emoni Santiago's life has been about making the tough decisions—doing what has to be done for her daughter and her abuela. The one place she can let all that go is in the kitchen, where she adds a little something magical to everything she cooks, turning her food into straight-up goodness.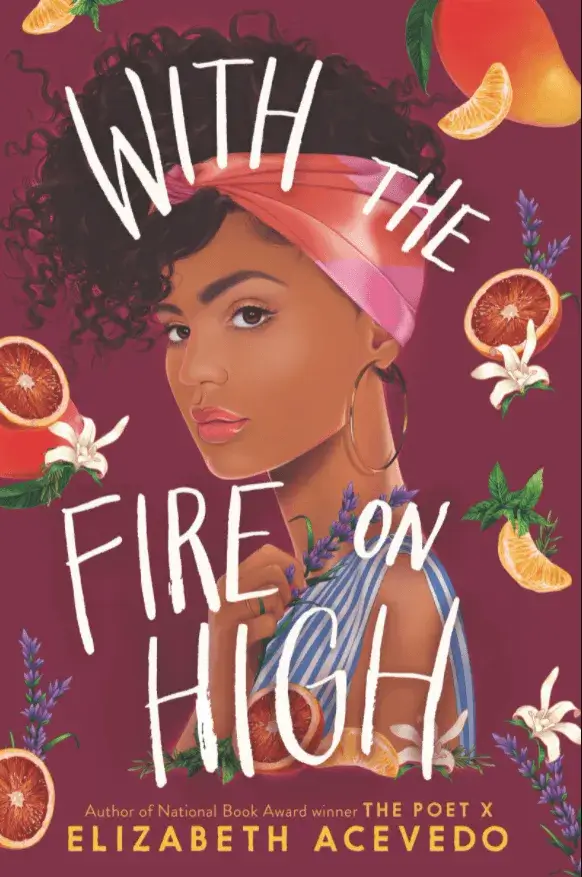 Even though she dreams of working as a chef after she graduates, Emoni knows that it's not worth her time to pursue the impossible. Yet despite the rules she thinks she has to play by, once Emoni starts cooking, her only choice is to let her talent break free.
5. The Most Fun We Ever Had by Claire Lombardo
A dazzling, multigenerational novel in which the four adult daughters of a Chicago couple–still madly in love after forty years–recklessly ignite old rivalries until a long-buried secret threatens to shatter the lives they've built.
When Marilyn Connolly and David Sorenson fall in love in the 1970s, they are blithely ignorant of all that's to come. By 2016, their four radically different daughters are each in a state of unrest: Wendy, widowed young, soothes herself with booze and younger men; Violet, a litigator-turned-stay-at-home-mom, battles anxiety and self-doubt when the darkest part of her past resurfaces; Liza, a neurotic and newly tenured professor, finds herself pregnant with a baby she's not sure she wants by a man she's not sure she loves; and Grace, the dawdling youngest daughter, begins living a lie that no one in her family even suspects. Above it all, the daughters share the lingering fear that they will never find a love quite like their parents'.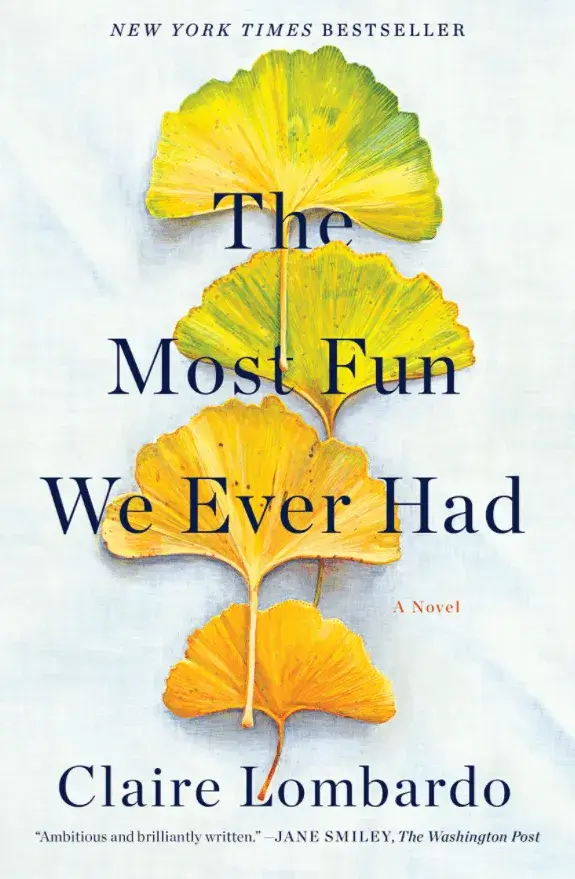 As the novel moves through the tumultuous year following the arrival of Jonah Bendt–given up by one of the daughters in a closed adoption fifteen years before–we are shown the rich and varied tapestry of the Sorensons' past: years marred by adolescence, infidelity, and resentment, but also the transcendent moments of joy that make everything else worthwhile.
Spanning nearly half a century, and set against the quintessential American backdrop of Chicago and its prospering suburbs, Lombardo's debut explores the triumphs and burdens of love, the fraught tethers of parenthood and sisterhood, and the baffling mixture of affection, abhorrence, resistance, and submission we feel for those closest to us. In painting this luminous portrait of a family's becoming, Lombardo joins the ranks of writers such as Celeste Ng, Elizabeth Strout, and Jonathan Franzen as visionary chroniclers of our modern lives.